**As I transition to www.TheBeginningFarmer.com I am quickly realizing I'm not as web savvy as I had hoped! In the meantime I will be posting here as well for those of you subscribed through RSS ... and hopefully will have that fixed soon.**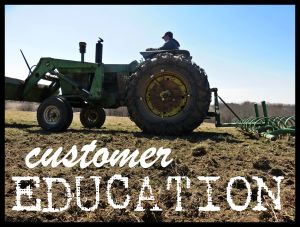 When I dropped our first batch of hogs off at the locker for processing I was completely lost. I didn't know where to drop them off, I wasn't 100% sure I could even get them off the trailer by myself (and I could tell they were too busy to help), and I was even clueless when it came to my cut selections (even to the point where I didn't understand where all the cuts came from on the hog). To put it simply I had no idea what I was doing, which has actually been a pretty normal part of this farming adventure! Processing at a local locker is just one of the many differences between the pork we sell and what our consumers may be used to purchasing at their local grocery store. There are differences in our animal care, differences in our feeding, differences in the space they have, differences in the breeds, differences in the cuts you can purchase, and of course differences in how they purchase our meat! All of that shows just how important consumer education is, and why small-scale farmers need to continually work to educate and encourage a growing customer base.
6 Points of Emphasis for Customer Education & Encouragement
Know Your Cuts of Meat (or whatever your product is)
Share Your Raising Practices & Livestock Husbandry
What to Expect With Frozen Meats
It's Not Packaged Like at Big Box Stores
The Processor Makes the Final Product
What Sets Your Product Apart (your elevator pitch)
Links Mentioned in the Episode
Check out The Beginning Farmer Show on Facebook!
As always, I want to thank you so much for listening and supporting the show with your encouragement and reviews on iTunes! I am continually working to produce a better show, and I'm thankful for all of the listeners sticking with me as I learn.
If you do enjoy the show, don't forget that you can
subscribe on iTunes
and leave a five star rating and review (by clicking the link). If you are an Android phone user you can also
subscribe on the free Stitcher App
.
It is so very encouraging to know that people are listening and enjoying the show! I would love to hear your questions, show ideas, or comments about the show. Feel free to shoot me an
e-mail
!
As always you can follow along with "The Beginning Farmer" and Crooked Gap Farm by checking out these links ...