**As I transition to www.TheBeginningFarmer.com I am quickly realizing I'm not as web savvy as I had hoped! In the meantime I will be posting here as well for those of you subscribed through RSS ... and hopefully will have that fixed soon.**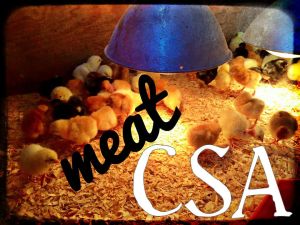 When we began our Crooked Gap Farm Meat CSA in January, 2014 it was with the hope that it would replace our farmers market sales. In fact we were so hopeful that it would replace those sales that it was part of the reason we decided not to attend the market at all in 2014. While making that decision I realized it probably would have been best to do the market part-time at the beginning of the season to help our customers make the transition, but we were just so burnt out from the market that we jumped in head first to the Meat CSA! The Community Supported Agriculture (CSA) model is not a perfect fit for every farm, but it has worked well for us and it is growing. There is one thing I'm certain of ... like most other things in farming and marketing there is a learning curve (especially when you are offering a variety of products) when it comes to putting together shares and managing the inventory.
On this weeks episode of The Beginning farmer Show we are going to take some time (a lot of time actually) to answer questions about our Meat CSA model. The direction for this episode came in the form of a great e-mail from Kevin who asked:
How do you determine what goes in the box each week?
How did you price it?
Is the goal to have a customer at the end of the year end up with: for example, a 1/4 or 1/4 hog, an 1/8 beef and 10 chickens or do you do it based on what's in the freezer that week?
If not, how do you know if the customer is getting a balance of cuts (i.e. not too many chuck roasts and also not all steaks)?
Are there any cuts of the animal that you absolutely don't put in the box based on their value?
Along with Kevin's questions I also posted the topic to
The Beginning Farmer Show Facebook
page and had more great questions come in! I've done my best to offer my thoughts, but I would love to hear what you think about the Meat CSA model. Do you have any tips that I haven't thought of? What is working in your marketing efforts? Join the discussion in the comments below.
Links Mentioned in the Episode
Check out The Beginning Farmer Show on Facebook!
As always, I want to thank you so much for listening and supporting the show with your encouragement and reviews on iTunes! I am continually working to produce a better show, and I'm thankful for all of the listeners sticking with me as I learn.
If you do enjoy the show, don't forget that you can
subscribe on iTunes
and leave a five star rating and review (by clicking the link). If you are an Android phone user you can also
subscribe on the free Stitcher App
. It is so very encouraging to know that people are listening and enjoying the show!
I would love to hear your questions, show ideas, or comments about the show. Feel free to shoot me an
e-mail
! As always you can follow along with "The Beginning Farmer" and Crooked Gap Farm by checking out these links ...