**As I transition to www.TheBeginningFarmer.com I am quickly realizing I'm not as web savvy as I had hoped! In the meantime I will be posting here as well for those of you subscribed through RSS ... and hopefully will have that fixed soon.**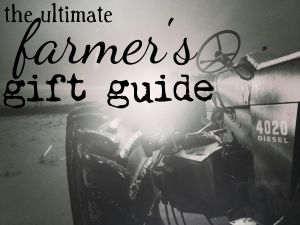 This past week has been a bit overwhelming on the farm and in our world of farm business planning. When things get that way it is always nice to do something a little more lighthearted and fun, which is exactly why I have put together my
Second Annual Beginning Farmer Christmas
List! Farmers can be hard to shop for because usually if there is something they need it is needed at that moment and can't wait for the nearest birthday or holiday, but it is still nice to have something for them to open up if you have a farmer or future farmer on your shopping list. On today's episode (and listed below) you'll find ten things that I think make great gifts because I use them on my farm, or they are so awesome that I actually have them on my wish list. There are things for reading, things for working, things for making that work easier, and of course even a bonus item that will help you clean up at the end of the day ...
The Beginning Farmer & Future Farmer Christmas List
What is on your farming Christmas list or what would you suggest for other farmers? Check out what was on my Christmas list last year!
Check out The Beginning Farmer Show on Facebook!
Links Mentioned in This Episode:
As always, I want to thank you so much for listening and supporting the show with your encouragement and reviews on iTunes! I am continually working to produce a better show, and I'm thankful for all of the listeners sticking with me as I learn.
If you do enjoy the show, don't forget that you can
subscribe on iTunes
and leave a five star rating and review (by clicking the link). If you are an Android phone user you can also
subscribe on the free Stitcher App
. It is so very encouraging to know that people are listening and enjoying the show!
I would love to hear your questions, show ideas, or comments about the show. Feel free to shoot me an
e-mail
! As always you can follow along with "The Beginning Farmer" and Crooked Gap Farm by checking out these links ...